If you're a fan of the Cotton Ginny clothing stores in Canada, you will like this free coupon! Between the 13th and 24th of April 2009, Cotton Ginny are offering us a $15 discount when you spend $40 or more.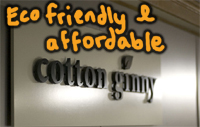 When you think about it, $15 off $40 equates to a 37.5% discount!!! They have stores all over Canada, so you shouldn't have any trouble making use of the discount coupon.
Apparently, Cotton Ginny are jumping on the green wagon too, introducing new organic fibres into their clothing, as mentioned on the Wish.ca blog. This includes soy, corn, and bamboo! Who wouldn't love a bamboo skirt!? They're really updating their green cred. There's a bit more info on Cotton Ginny's clothing and practices on the happyfrog blog. Becca Jo was impressed that cotton ginny support fair trade, are affordable eco-fashion, plus they cater to the larger women!
Thanks Daifuku Sensei.