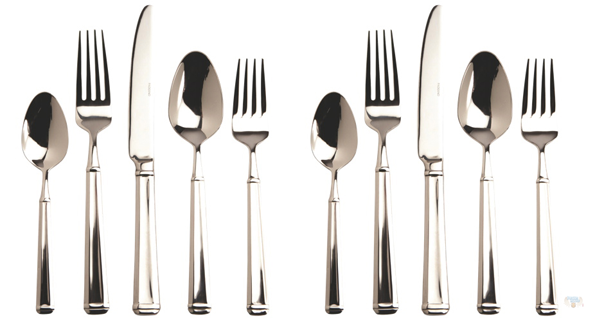 If you've been waiting for the right opportunity to purchase some quality flatware for a decent price, then you should check out today's deal at Costco. You can get a Paderno 20-Piece Brackley Flatware Set for $39.99 - the regular price is $99.99 elsewhere. You'll also get free shipping with your order! Just remember to have your Costco membership card handy when you're placing your order.
This Paderno 20-Piece Brackley Flatware Set comes packaged with 4 knives, 4 forks, 4 salad forks, 4 spoons, and 4 tea spoons.
There comes a time when you need to replace your current set of flatware. Whether they're becoming excessively stained, worn, or have just been around for way too long, this is something that eventually needs to be done.
I know that I had to eventually get a new flatware set a few years ago when my forks were starting to bend! I picked up a cheap set of them at WalMart, and even though they're a decent set, they aren't very spectacular. Some of the butter knives are starting to stain already, so I can't say I'm very happy with my purchase, but I got what I paid for (I paid $24.99 for the set).
However, this Paderno 20-Piece Brackley Flatware Set normally costs $99.99 at several retail locations, which shows that this set is way more high end than the one I purchased at WalMart. Plus, since you'll be getting it for $39.99, you can save $60!
If you were to purchase this Paderno 20-Piece Brackley Flatware Set at Paderno's website, it would cost you $99.99. It's currently on sale for a limited time atFuture Shop for $49.99, but that deal is set to expire soon. If you want to learn more about Paderno's line of products, just click here.
This is a great deal for a quality flatware set! Happy hunting, Bargainmoosers!
(Expiry: Unknown)