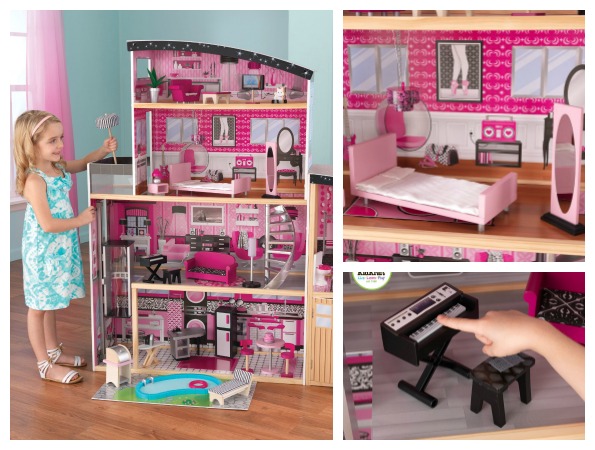 That "it" gift for your little one is just under your nose at Costco.ca. Get the KidKraft Sparkle Mansion dollhouse, regularly $184.99, now $147.99. As always, all orders from Costco ship for free, which is definitely a bonus with an item this large.
You really can't deny the fact that Costco has the lowest price on almost everything they sell. This is why I spend so much money when I hit up their warehouse - because everything is just such an awesome deal. Online is really no different, although I do sometimes find that items are bit more online than they are in the warehouse, but that probably accounts for some of the shipping and I don't think you need a membership to shop online either.
While I don't have girls, I found a gift that my little girl heart is begging for. This KidKraft sparkle mansion is seriously a gift little girls would love. Larger than most little girls standing at 135cm (and weight 54lbs), it has everything you'd even want in a house including a pool, molded spiral staircase and an elevator.
The furniture that is included is stylish and the wallpaper and decor is all pink and sparkly. I seriously want to get this just for me. I know my youngest would play with it, so I could use him as an excuse ;)
As with many things I find at Costco, I didn't really see this exact dollhouse selling elsewhere. Amazon does have it, but they sell it for a whopping $264.87.
This Majestic dollhouse that Toys R Us sells for over $300 plus extra shipping costs, is of a similar size and design. You are paying half of that at Costco.
I had to laugh at the review on Amazon that said that this dollhouse was much bigger than expected. As you can see from the photo, it is larger than the child by quite a bit, which I think is part of the appeal. They suggested a step stool so kids can reach all of the levels.
(Expiry: 25th October 2015)