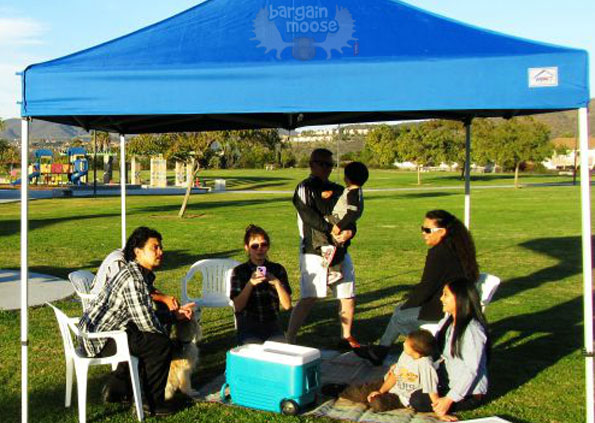 Summer is drawing to an end, but if you're in need of a canopy, then look no further. At Costco, you can currently grab the Impact AOL Instant canopy kit for just $269.99. It's 10ft x 10ft and shipping is completely free.
The price tag may seem high, but it's actually much cheaper than what you get it for elsewhere.At Amazon, you can get this exact canopy for nearly $100 more: at $364.99. On their official site, Instant Canopy sells this kit for $279 but considering they don't ship to Canada, Costco's deal is definitely the best deal, especially since it is $10 cheaper anyway.
The Impact AOL instant canopy is available in either black, blue, green or white but keep in mind that the black one is currently on backorder and will be shipped within the next 3 weeks.
It also has a number of really awesome characteristics like the fact that it's made out of a 500-denier polyester fabric top that is UV protected, water-resistant and which has also been treated for mildew. There are more features, so make sure to read about them all on Costco's site. What I also like about it the most is that it's not a tent with just a top; it also comes with four side walls, one of which has a zippered door.
The reviews seem to be a little hit or miss but it has nevertheless garnered nearly 4/5 stars based on 26 reviews. Here's what one happy reviewer had to say about it:
If you want something light, durable, amazingly easy to set-up and looks expensive. This is your tent. I set this tent up by myself without any issues and take down is simple too. The walls have two options for attachment, using the zipper and light fitting velcro attachment under the top cover look extremely good but do take a little longer, I find most of the time I just use the velcro loops that run all the way around each wall panel for super quick and easy wind protection.
Admittedly, another reviewer gave it a 1/5 star rating because the zipper broke on the first pull. This is something that can happen with nearly any product and we have no way of knowing just how hard the zipped was pulled for it to break, so ultimately, if you're in need of a tent like this one, then it's well worth giving it a try. Plus, this same reviewer mentioned Costco's fast shipping, which only took 5 days!
(Expiry: Unknown)