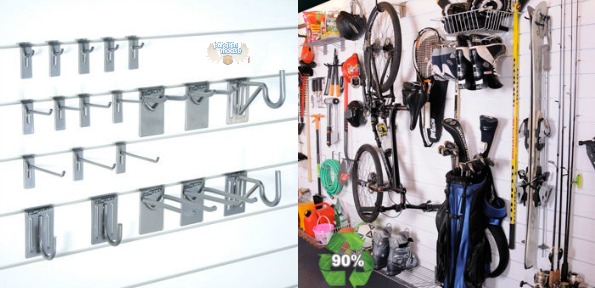 Purchase the Proslat 8 ft. Panel Kit from Costco Canada and receive a bonus Proslat Hook Kit valued at $64.99 with your purchase.
Click here to view the panel kit @ Costco.ca now
According to the promotion, a bonus hook kit will be sent with each 8 ft. wall panel ordered during the promotion period. If I am reading that right, it should mean that you can buy multiple panel kits and receive multiple hook kits: one for each panel kit you buy.
The panel kit costs you $129.99 with the hook kit freebie valued at $65. In my opinion, that is a good value gift with purchase.
The panels are made in Canada of 90% recycled material heavy-duty PVC. They are 2 mm thick and measure 8 feet tall. Each box comes with ten panels. One box of panels will cover an area of 32 square feet. Depending on the size of your garage and how many walls you want to cover, you may need more than one kit. The panels are a crisp white, but do not worry about them getting dirty. They are easy to clean and impact resistant. With their interlocking style, they are also resistant to mold, mildew, or water. If you install these in your garage - where most people will be - you can just hose them down if they get too dirty.
As for the hook kit, you receive good strong high-grade steel hooks with a silver powder-coated finish to put on your wall panels for hanging sports equipment, tools, and more. The kit comes with:
12 x 10.2 cm (4-in.) hooks
two double 20.3 cm (8-in.) hooks
 two double 10.2 cm (4-in.) hooks
two super-duty hooks
two heavy-duty U hooks
You would be amazed how quickly you will go through these hooks. I am even looking at these kits and thinking I would need more hooks.
These two kits are a good way to save space in a crowded garage. Instead of piling everything on the floor, mount some of it on the wall. Those heavy-duty U-hooks would be good for a mountain bike and some of the other hooks can be used for extension cords, water hoses, kids' bikes, car accessories, and other things.
The panels come with a 10-year warranty and I assume that the hooks do as well. While this kit would cost a fortune to ship from most any other retailer as it weighs in at 45 lbs, Costco offers free shipping and handling on all orders.
(Expiry: 3rd August 2014)