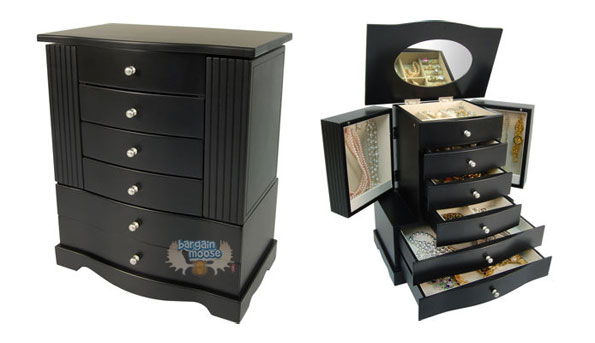 It's kind of funny seeing this jewellery box on special no later than a month after buying it for a friend on her birthday, and yet, here it is, bigger and cheaper! For a limited time, you can save $30 on this fabulous Anika dresser top armoire and get it for just $69.99 at Costco Canada instead of its regular price of $99.99.
With a java finish, this lovely jewellery box features a total of 5 drawers (3 small and 2 large), along with compartments on either side of it for necklaces and a lift top lid with a mirror. The top portion also has built-in padding for rings and overall, the entire jewellery box is made with a soft beige lining to keep your jewellery scratch free.
To give you an idea of the awesomeness of this deal, I searched around Sears for a jewellery box and those that I found simply did not compare in size and price to the Anika. Take for instance, the Traditional 3-drawer clear-top one: while it's certainly elegant, it's not nearly as spacious and is actually much more expensive ($39.99). Along the same lines, there is also theTraditional 2-drawer lift-top box but again, it's much smaller and more expensive, at $79.99.
I have to admit that although I just bought a smaller version of this jewellery box for a friend, I most likely will be taking advantage of this deal for myself because it's just too good to pass up -- assuming you have the counter space to put it on! But rest assured that even then, it doesn't require all that much room. Not to mention the fact that this would make for an awesome Valentine's Day present as well!
Plus, shipping and handling fees are free, so you get what you pay for with no hidden fees!
(Expiry: 16th February 2014)