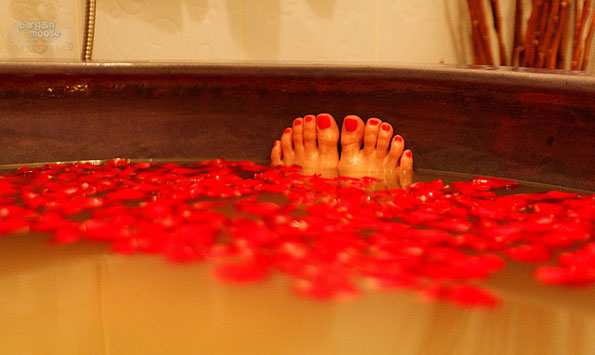 Mother's Day is already upon us and if you are still frantically searching for a gift or perhaps are looking for a gift to make it up to your Mom for forgetting this iconic day, then I found a pretty sweet deal for you (though of course, anyone can take advantage of this too!): at Costco, you can get 2 $50 WaySpa e-certificates for just $74.99 -- that comes up to 25% or $25 off.
Today, my Mother admitted to me that she still hasn't used a spa gift card that she received as a gift last Christmas. To me, that seems like pure madness. Having become a Mom myself last year, I have been dreaming of going to a spa for a while now and if I had received that same card, I would have probably tried to go the same day! Well okay, maybe the following day, but you get my point!
Every now and again, we blog about WaySpa deals as they frequently have a promotion where you can get a $50 gift card for $39. In fact, we have had one such WaySpa coupon code posted on the Bargainmoose forum for a couple of weeks now but Costco's deal is slightly better as if you were to get two gift cards directly from WaySpa, then you would be looking at $22 in savings, whereas at Costco, it's $25.
You need to have a Costco membership to get the gift cards but what's cool about this deal is that they come in the form of e-certificated. This means that there is no waiting for the mail to arrive and if you're looking for a late Mother's Day gift, then this one is super awesome as you just need to buy and print. Plus, even if you don't have a printer, you could just directly forward the e-mail to your Mom or whoever else you're gifting it too.
Speaking of which, this isn't just a perfect gift for Mothers! You could get it for yourself or even treat a significant other to a nice relaxing time. WaySpa gift cards may be redeemed at over 2000 spa and wellness salons across Canada, so there are plenty of location options to choose from!
(Image Credit: Dennis Wong)
(Expiry: Unknown)