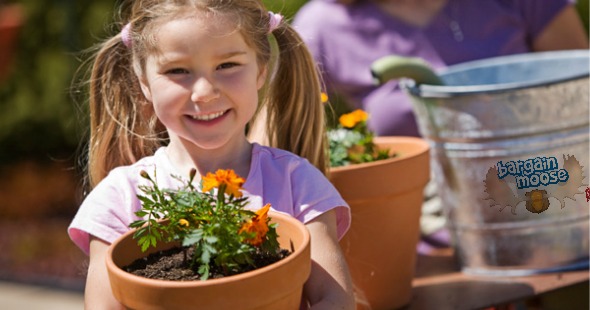 Nowadays our kids are so involved in technology that they don't spend as much time playing outdoors. I try to make sure my two and a half year old gets at least an hour outside daily, but keeping him occupied can be tough while I garden or clean up the yard. I had my eyes peeled for little things that he could play in the garden with, and here you have it. Right now CoolToysForTots.ca has their Melissa & Doug Sunny Patch items on sale for as low as $1.49, plus there is a coupon code to receive an additional 30% off the sales prices.
Click here to shop @ Cool Toys For Tots Canada
Coupon code: TOY30
Discount: 30% off
Expiry: 31st July 2015
Get your kiddo geared up for playing in the garden with gloves, a tote of garden tools and more. While they may seem like a girly toy, my son would adore these as well. Take a look at the Melissa & Doug Sunny Patch items on sale at Cool Toys For Tots Canada:
The Melissa & Doug Sunny Patch Blossom Bright Trowelis a necessity for any little kid looking to plant some flowers or seeds. The trowel would normally cost $3.99 but is on sale for just $2.99. Once you apply the 30% coupon, you will pay just $2.09. Keep in mind that this toy will be a much better quality than dollar store brand items. You can also snag the Melissa & Doug Sunny Patch Blossom Bright Cultivatorwhich was normally $4.99 for the same price. These tools also come in a different colour scheme - Happy Giddy - for the same price set if you are looking to grab two pairs and be able to tell them apart, or if you are looking for more boy-ish colours then the Happy Giddy tools are the way to go.
CoolToysForTots.ca has more outdoor fun than just gardening tools for tots. The Melissa & Doug Sunny Patch Grub Scouts Sprinkleris a great way to enjoy cooling off or watering the garden. This sprinkler was originally $24.99 and is on sale for $16.99. Again, once you apply your 30% coupon code you will pay just $11.89 which is less than half of the original price. Kiddos may get bored of the whole gardening scene, which is why the Melissa & Doug Sunny Patch Happy Giddy Bowling Set will be fun. I got a bowling set from Walmart for $15 but this Melissa & Doug version is much cuter, and better quality I bet. This set was originally $24.99 and on sale for $14.99. Apply your 30% discount and pay just $10.49 which is less than the cheaply made Walmart Canada set anyway.
There are lots of cute items to be had! Take a browse through and see what you can snag for your little one. There are boat parades, gardening totes, jellyfish sinkers, bug nets and more. CoolToysForTots.ca offers free shipping on orders over $59.99 (after discounts) to Alberta, British Columbia, Manitoba, Ontario, Saskatchewan and Quebec.