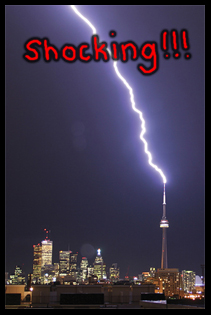 If you're planning on a visit to the popular CN Tower in Ontario, and you're searching for Tower coupons to save you few dollars on your trip, check this one out. You can get a 50% discount on their "Total Tower Experience" if you print and present the discount voucher from the CNTower.ca website. On checking their rates online, this attraction usually costs $32.99, so you'd be getting it for only $16.50! What you get:
Look Out
Glass Floor
Skypod
Movie
Motion Theater Ride
There's also a coupon on there for a free gift at their gift shop if you happen to be spending $12 or more. I don't know what you get though… could be a set of postcards… could be a free teddy bear… could be anything!
I visited the CN Tower a few months ago and I was quite impressed. It's the tallest tower I've ever been in, the tower height being 553m, with the Eiffel Tower coming second at 325m, in my experiences! If you'd like to read a bit more about the CN Tower, they have an online brochure on their site. I'll tell you guys – I was afraid to step on the glass floor!
Thanks for the great image Mathias Rousseau Photography! Apparently, lightning strikes the CN Tower 75 times per year – I would not like to be in it when that happens!
These expire on the 4th January, 2009.