Clover Leaf: Free Coupons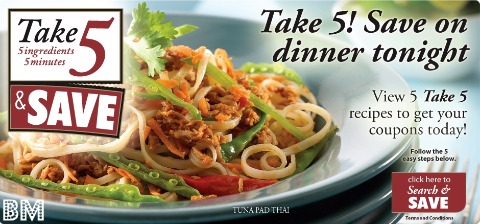 Got an email from Mooser Andrew about Clover Leaf's promotion to check out 5 of their recipes, and in reward get free coupons mailed to you. Unfortunately the promotion never says the value of the coupons but as a tuna buyer, any coupons are better than no coupons!
Instructions:
Click the search and save button to view 5 of the recipes
View your first take 5 recipe by clicking on the recipe of your choice
Click back under each recipe to go back to the list and pick another to view
After viewing the 5th recipe click on the "Click here to get your coupons recipe counter"
Enter your mailing address to receive your coupons in the mail
Pretty simple.. took me less than 5 minutes to do it, and got some great ideas on how to expand my tuna horizon. Thanks Andrew!