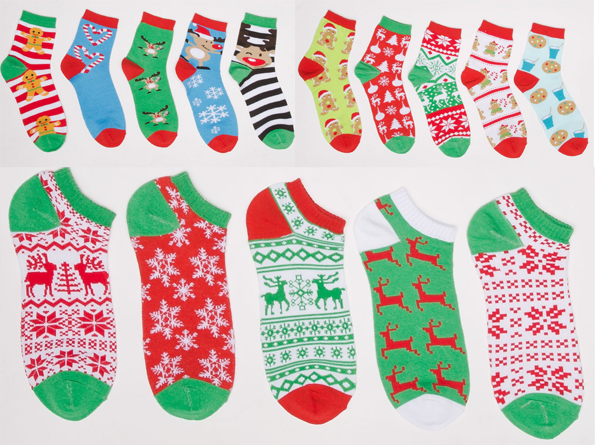 With the recent addition of a super coupon code from Bluenotes for an extra 10% discount plus free shipping on anything on site (code = MERRY), we've been keeping our eyes out for some fab Christmas items from their online store. Today, I spotted these super ladies Christmas socks, sets of which you can buy from only $7.19 shipped!! There are 3 styles to choose from, so I'll link you up to each one:
Here's a screenshot to show you the MERRY coupon code in action on the $7.99 socks: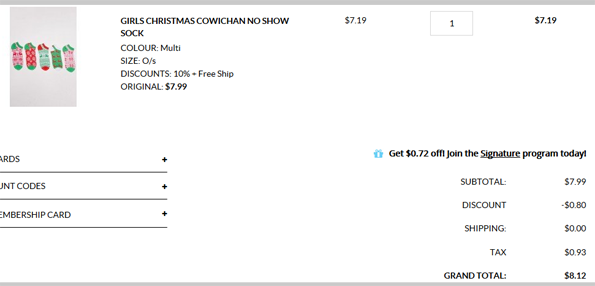 As you can see: $7.19 with totally free shipping!
The socks are all in one-size, so it sounds like this is really only for people with average sized feet. If you are one of the people who tends to have smaller or larger feet, then this deal might not be for you. I tried to find out a bit more info on the sizing, but the Bluenotes size guide focusses on clothing and not on their footwear, so I cannot find any more info on that.
I don't know why I am so excited about Christmas this year; I've never been quite as excited as this since I was a young child. I think it might have to do with the knock-on effect from my five year old daughter – she is getting older and really started to feel the holiday excitement herself. It's making me even more excited, and reminiscing about the excitement of days of yore!! And I am so excited and I'd love to wear these socks too!
(Expires: code ends on the 14th December 2015)