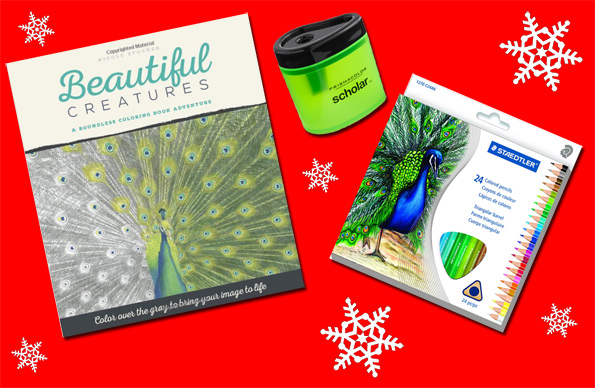 While browsing Amazon this morning, I found a really great price on a beautiful adult colouring book – it's called Beautiful Creatures: A Boundless Coloring Book Adventure. It was $17.95 but there is a $5 price drop, bringing it down to only $12.95 just now. But it got me to thinking – some people are looking for this type of thing as a Christmas gift, so I am going to put together a bundle idea for you – buy all three of these items and you've instantly set someone up to start their adult colouring journey!
When you add these three items together, that comes to a total of $22.06. If you have Amazon Prime, you'll get free shipping on your order as these items are all from Amazon. If not, just add something small to bring your order up to $25 for free shipping. (E.g. Another box of pencils!)
For that price, you are getting the coloring book I mentioned above, as well as a good set of colouring pencils and a sharpener too. Put these items together and wrap them all up, you've got a very thoughtful Christmas gift idea!
The coloring book is slightly different to ones we've mentioned on here before – it's actually grayscale images and you colour OVER the grey to give the images some life. You can see the example of this on the front cover of the book above.
When I started my own journey into adult colouring, I had a teeny little sharpener in my stationery tub on my office desk, but it just wasn't up to standard for sharpening my new tools – the coloring pencils. I ended up buying the Prismacolor sharpener above, to complement all my tools.
As for the Staedtler pencils, they get quite a number of five star reviews on Amazon, so it's a great set for a very low price.
(Expires: unknown)