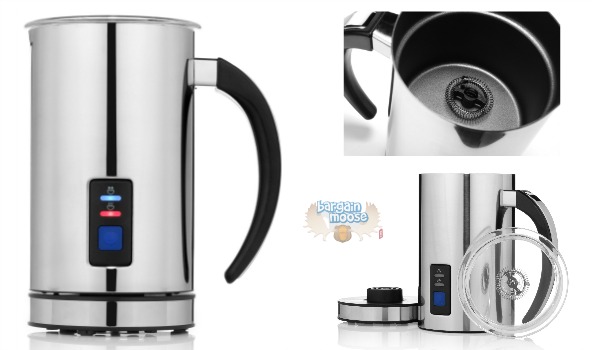 The Chefs Star Premier Automatic Milk Frother, Heater and Cappuccino Maker was $90 but now is only $49.99. Shipping is free @ Amazon with a minimum of a $25 purchase, and this product qualifies!
There is no better way to start your morning on a cold winter's day than with a delicious cup of coffee. This one button push milk frother, heater and cappuccino maker will help you easily create the perfect cup every time. Use it for lattes, cappuccino, hot chocolate or just a warm cup of milk at the end of a long day.
This milk frother is made of stainless steel. I have always noticed that when you are making a good coffee (or someone is making it for you!) a stainless steel carafe is used to heat the milk. I never really questioned why, just assumed stainless steel was superior. Food Service Warehouse has a great article explaining how to froth milk properly. In the article, they say that stainless steel is a better conductor of heat. This means your milk will heat much quicker in stainless steel than a plastic version.
Adding cream to your coffee means that it cools slower because the overall beverage is thicker and more viscous. By heating up the milk in a frother, your coffee cools even more slowly as both the coffee and the milk start hot. For another great article on the physics of coffee and cream, check out this great article by Modern Cuisine. You will be a well-informed coffee sommelier just in time your new frother to arrive.
Sears.ca has a Hamilton Beach Melitta Milk Frother on sale for $51.99 but it has a black plastic exterior. Staples has a Krups Automatic Milk Frother that is currently $99.97. Costco has the Krups version also for $115. Hudson's Bay also carries a similar milk frother, the NESPRESSO Aeroccino Plus, which costs $99.95. After searching a little more it seems most of the stainless steel versions all run around $100. The black plastic versions are less expensive than the stainless steel but are a lower overall quality.
Overall people seem pretty happy with this product. This frother has 22 reviews and has a four and a half star rating.
Fast and fluffy! Good for coffee and hot chocolate and makes enough froth for topping two cups of drinks. The only slight drawback is that you need to rinse carefully. The interior canister is not removable for washing.
Most of the reviewers call the Nespresso version the gold standard, but this also does the job. One reviewer mentioned easily being able to heat almond milk. The same person also said you cannot heat commercial coffee creamers in this frother, which would not have occurred to me to try. Maybe just stick to milk and almond milk.
(Expiry: Unknown)