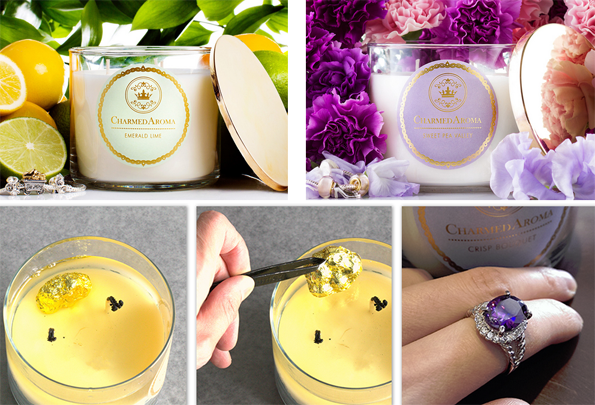 Have you heard of a Canadian company called Charmed Aroma? Well, they make a beautiful range of natural soy candles. But that's not all… inside each candle is a ring – which can be worth anything up to $5000!! Isn't this a superb idea for a gift?
We've hunted down and found an extra 10% coupon code for this store – if you're buying there, it can save you a few bucks! Here are the details:
Click here to see the candles @ Charmed Aroma now
CouponCode: GIVEAWAY10
Discount: 10% off your order
Expires: Unknown
We're saving this coupon here on our coupon page for this store, if you ever need to make use of it.
Now, a little more about the products, as we've never mentioned them here on Bargainmoose before. Here's the process:
Buy/Gift a Charmed Aroma candle
Burn the candle until foil appears
Use tweezers to grab the foil package
Unwrap and admire your prize
The Charmed Aroma candles on the site are $25.99 each ($23.39 with coupon), and shipping is a rate of between $2.95 and $8.95 depending on how much you spend. If you spend $99 or more (then it's free shipping).
On the Charmed Aroma site, there's an appraisal tool – you enter the serial number that came with your ring and they will state how much it is worth – this could be anything between $10 and $5000!
There's a prize gallery here where people have uploaded photos of the rings they received, if you'd like to see some of the various styles. I have to say that even though I am not a big "ring person," I quite like some of the designs there.
And on their Facebook page here, there's a lot of convo about the gift too, as well as some people showing off the appraisals that they got for their jewellery. The last post on the Facebook wall shows one of the major prizes in the candles at the moment – it's a beautiful sapphire and diamond ring worth $3000! Here's what it looks like: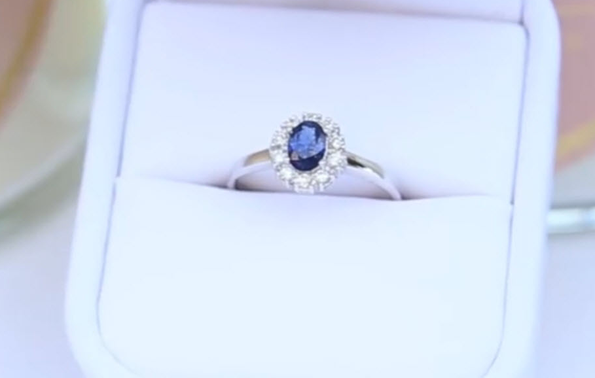 Some people on the Facebook wall have stated appraisal values of $200 to $250… obviously there are only going to be a small number of the top prizes like the sapphire and diamond ring above – but wouldn't that be amazing to find in a $25 candle!?
What do you think of Charmed Aroma candles? A great gift or a bit of a gimmick?