I posted about this fabulous all leather Roots bag exclusive to Chapters Indigo a few weeks ago. It is worth $158 and was only $59. What a wonderful deal. Even more wonderful, Chapters is currently offering $20 off! That is a Roots leather Tote for only $39.00!
Use the coupon code Debit5 to get an extra $5 off your order! You will still quailify for free shipping, what could be better!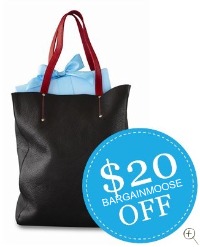 So, this is fab and all (really it is) but I ordered this bag 7 days ago, and it was shipped out 5 days ago. I just couldn't resist it - I got the weekender bag when these were released and it was just so awesome. So I have sent an email to Chapters asking them if they will consider refunding the $20 since I ordered it so recently, and am a repeat customer.. and I asked nicely. lol. I await their response, will let you know what happens!
Update: Chapters sent a nice reply within 24 hours (see comments) basically saying they honour price reductions within 14 days of shipping and will be happy to refund me the $20 plus applicable GST. Woohoo!