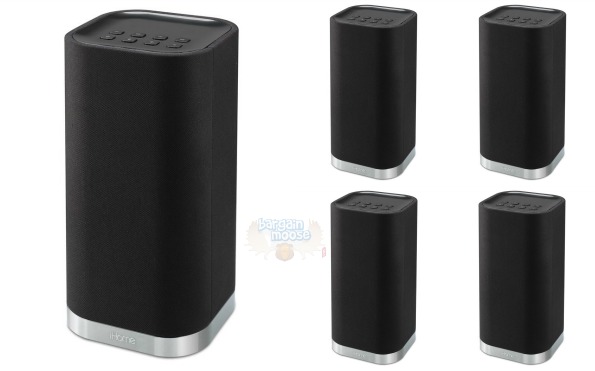 I wanted to bring special attention to the great Black Friday deal on this iHome iW3 AirPlay Wireless Speaker at Chapters Indigo. Originally $199, the wireless speaker system is now just $79.
I am a big fan of iHome myself as I have owned one and filled my house with their strong, crisp, and crystal clear sound. The iW3 is a mid-range speaker for quality - it will not give you the quality a $400 speaker will; however, it is a million times better than any speaker that usually retails for under $100. I usually buy around the $200 price point for both speakers and headsets so this deal is what I like to see.
The iW3 is different from your usual wireless speaker. Rather than use Bluetooth, your phone uses your home network's Wi-Fi connection to connect to the speaker and control your music. Using Wi-fi makes it easy to switch the speaker between devices on your home network.
You will receive wireless audio anywhere in the home. For portability, the speaker comes with a rechargeable Lithium-ion battery. You can take it into the bathroom for tunes during a bath or move it to the garage while you are working on your car.
The iW3 also supports USB so you can charge your iPad, iPhone, etc right off your speaker tower. That is a cool feature in case you do not have access to an outlet at the time but want to continue playing your music. Charge and play at the same time.
I have seen these Wi-Fi units before and they are a cool idea. Your home Wi-Fi signal is pretty strong so you can move this at easy and transfer between devices with fewer syncing issues according to the rep. I was talking to at Future Shop. There is less of a chance of a dropped signal and he said the wireless quality is also better over Wi-Fi than Bluetooth.
Right now, you can score a $200 quality system for just $80... making this a fantastic deal in my books. Receive free shipping on the unit as well as it retails for $25 or more. When you pay with Paypalcheckout, you can also get 5% cash back if this is your second Paypal purchase since November 24th.
(Expiry: 30th November 2014)