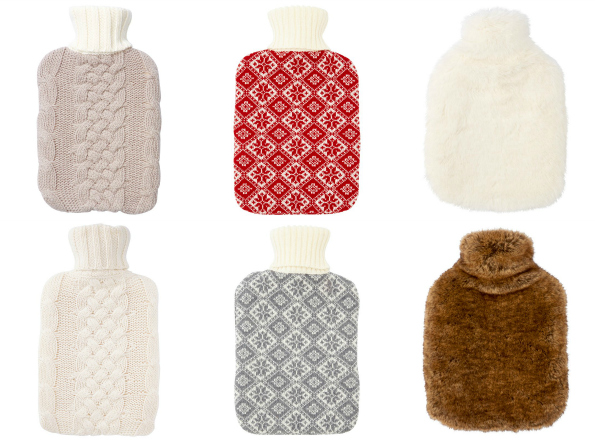 I am freezing this winter and the only thing keeping me from turning into an ice ball is my beloved water bottle. Chapters Indigo has a select of hot water bottles with covers on sale from $29.50 down to $12.50 each for Boxing Day. You can get an extra 10% off your order when you pay with Visa Checkout. Using that method, each bottle comes down to $11.25. There are three different water bottle styles to choose from: Cable Knit, Cosy Fair Isle, and Cosy Fur.
These are a great price as they include both the inner water bottle and the outer cover of your choice. They are also full-size water bottles, not the mini ones I have seen on sale before. A full-size water bottle measures approximately 13" by 8".
I just bought a 'naked' water bottle for $8 at Rexall a few weeks ago. It did not come with a cover, thus I need to buy a cover separately. That is why I am so delighted over these water bottles; just a cover alone will cost me $20 so I will probably buy one of these instead and have two bottles!
The cable knit comes in three colour options: grey, pink, or ivory. These are a fantastic 'basic' option if you just want something to keep you warm and cosy through the winter. I am leaning towards the ivory cable knit model myself.
The Fair Isle comes in red or grey print with a white/ivory contrast. I think the red is a bit - Christmasy - for all year around but the grey is quite nice.
Lastly, the Cozy Fur comes on brown or ivory. I was thinking this would be the best choice for children. I loved hugging a hot water bottle when I was sick as a kid, and this one is like hugging a teddy bear. You could even get inventive and stitch on some button eyes and a mouth to give the water bottle some character - and a face.
Receive free shipping on orders of $25 or more from Chapters Indigo. I checked it out, and free shipping is AFTER Visa Checkout discount.
(Expiry: varies)