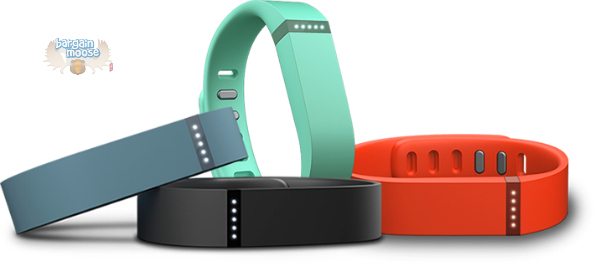 Chapters Indigo has dropped the price of their Fitbit Flex from $119.95 down to $99.95. Use Visa Checkout for an extra 20% off your order (one use per account). After the Visa Checkout discount, your Fitbit Flex will cost only $79.96 with free shipping.
It is actually hard to get this device for around $80 anymore (last time was Black Friday) because the Fitbit Flex did a price jump. The original retail price was $99.99 but this year the device jumped to a retail price of $119.95 with sale prices only dropping it back to its original price. I price compared the Fitbit Flex on other retailer's websites.
$99.95 @ Staples Canada
$99.99 @ Best Buy Canada
$119 @ Microsoft Canada
$119.95 @ Walmart Canada
$99.95 @ Amazon Canada
Half the places match Chapter's original sale price, but none can beat Chapters Indigo's price once you add on the Visa Checkout discount. The Visa Checkout discount has a limit of one discount per customer. I already bought three books with mine (as I mentioned in this post) so I cannot use it again. Oops!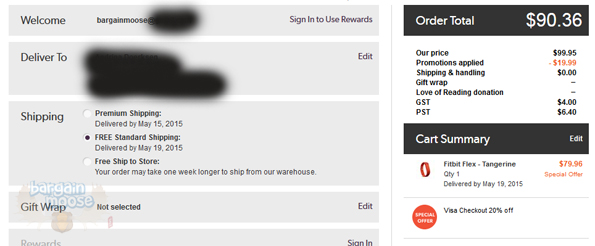 It actually surprises me that the Visa Checkout offer does not exclude electronics - usually Chapters' coupons do. I was quite delighted to discover this and hope you are as well.
I suggest checkout out reviews before purchasing any product. One reviewer on Chapters said:
I bought one of these in January and it's made it so much easier to keep track of my fitness goals. It's fun to see everything charted in the app. It's comfortable too, like wearing a watch. I recommend it to anyone, tech savvy or not.
Another reviewer was distressed that water ruined his or her Fitbit. Well, you really should know what you are getting and not just assume a device has properties that it does now. The Fitbit Flex is not waterproof. In addition, it does not have a heart rate monitor. I do not understand why people would rate a product badly for things the product does not have - you knew that when you bought it. The Fitbit Flex does monitor steps, distance, calories burned, and active minutes. It also monitors how long and how well you sleep. The device has its limitations; you may want to familiarize yourself with them before purchasing.
You automatically receive free shipping on orders of $25 or more.
(Expiry: Unknown)