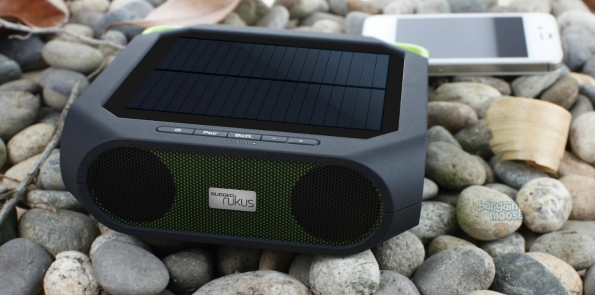 Today starts five days of tech deals at Chapters Indigo Canada. To kick things off, we have a marvelous deal on the Eton Rugged Rukus Solar-Powered Bluetooth Speaker in black. Originally $99.99, this speaker is on sale for just $49.95 with free shipping.
Wherever there is sun you can maintain a continuous stream of tunes. Whether hiking, on the beach, camping, or at home on the deck, this speaker will absorb energy from the sun and convert it into power for this wireless speaker. You can connect your Bluetooth enabled smart phone, tablet, or computer wirelessly to the device.
With efficient solar panels to absorb energy from the sun, your wireless speaker will store that energy for up to 8 hours of playback once the sun sets. Thus, this Bluetooth wireless speaker can be used for music playback even at night. You can also plug your phone into the Eton Solar-Powered Bluetooth Speaker to charge your own device. This speaker acts as both an external battery and as a wireless speaker using free power from the sun.
I price compared this wonderful little unit and was surprised at how much it costs elsewhere. Here is a rundown of my price comparison:
$100.78 @ Amazon Canada
$111.74 @ Staples Canada
$99.99 @ Best Buy Canada
Essentially, this device costs either the full retail price or more at any other retailers. Chapters Canada's deal is pretty awesome for this sweet little speaker.
I look at a lot of speakers and I have tried a lot of speakers in my time. I always come back to Bose for pure sound and Sony for affordability and sound. However, Bose and Sony make speakers that are best suited for indoor use. They are not rugged and will not survive many trips out. That is what you want a rugged speaker for. It also makes sense to have a solar panelled speaker anyway if you are going to be using your speaker outdoors. It can charge on the go without needing access to power. I cannot think of a better accessory for camping. I would love to listen to music while roasting marshmallows around the camp fire.
This is the first day of five days of unique tech deals. Check back again tomorrow for the next deal.
(Expiry: 21st July 2015)