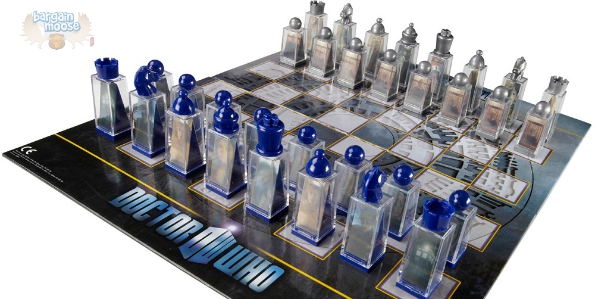 Hello Whovians! Chapters Indigo has discounted the uber cool Dr. Who Lenticular Animated Chess Set from $69.95 down to $34.97. This is the cheapest price I can find this chess set anywhere and it is a pretty awesome unit. As the Dr. Who chess set costs over $25, you will receive free shipping on your order.
Play as either the Doctor (hero) or as the villain with this chess set featuring 3D lenticular images of characters from the BBC's Doctor Who. Through lenticular imagery, the 32 chess pieces come alive as you play. Pieces include:
Black (Silver Tops & Bases)
King: Supreme Dalek
Queen: Weeping Angel
Knight: Cyberman
Bishop: Silurian General Restac
Rook: The Pandorica
Pawn: Smiler
White (Blue Tops & Bases)
King: The Doctor
Queen: Amy Pond
Knight: Rory Williams
Bishop: Professor River Song
Rook: Tardis
Pawn: Judoon
I think someone might kill me or try to brainwash me with a marathon of Dr. Who if I admitted that I had never seen the show. However, I know it is incredibly popular to the point of major fandom both in the UK as well as in Canada. I have some friends who are major Whovians.
Now, price comparing this set in Canada wasn't easy as so few places carry it. I did find it sold at Amazon Canada for $74.95 with the customary free shipping. I price compared with some shops in the USA just to double check on this deal. Big Bad Toy Store had it on sale for $54.99 USD and it is now sold out. Gadgets and Gear sells the same board for $64.95 USD. At Amazon.com, the price is $48.57 USD. Considering the exchange rate from USD to CAD right now, these prices are not even close to Chapters Canada's deal.
While there are no reviews on Chapters Indigo, reviewers on Amazon Canada were mostly positive. Many found the chess set the perfect gift for young Dr. Who fans. Several said it was not worth the original price as it is plastic, holographs, and cardboard but still loved the idea and thought it was a good buy on sale. Many people agree that this set makes an excellent and unique gift for Dr. Who fans.
(Expiry: unknown)