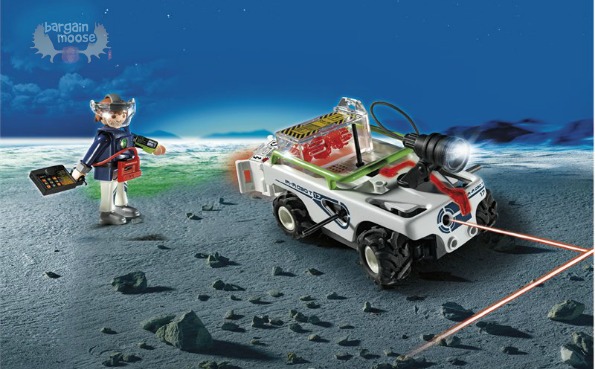 I found a hot deal at Chapters Indigo on Playmobil. Get select sets of Playmobil at 50% off. The set is the Future Planet line, with three sets available at half the price.
I know that parents with fanatic about Playmobil kids might want to immediately click and buy these sets and save them for birthday gifts, end of school gifts or even for just because. We here in the Webster household are  Playmobil enthusiasts and have quite the mini city going on. In fact, my husband wants to get rid of all other toys in our house and only have Playmobil. I had to stop him before it got too late. My boys have pieces of this Future Planet set, but not the three sets listed, so this would make a perfect gift for their birthdays if I prepared and bought now. I also think they would make great gifts to save for other kid's birthday parties as Playmobil can be quite expensive at full price and the kid will think he hit the jackpot and I'll know I only paid $20!
The Future Planet line is great for kids who like sci-fi or space. The first on sale set is the Dark Rangers Headquarters, which includes the headquarters itself, a beam gun and a remote-controlled car with cannon, as well as lots of little pieces and some guys. I have to add that the Playmobil vehicles get the most use in my household, even more than the buildings as they are easy to move around the house (and leave under my feet while I cook dinner, but that's a different story). This set is normally $79.95, and on sale for $40. The closest store I could price compare it to was Toys R Us, which sells it now for $50.
Also on sale is the Dark Rangers Explorer with flash cannon RC, which is the remote controlled car. It is now only $25, was $49.95. The Explorer quad with IR knockout cannon is also a remote controlled car. It was $42.95, now $21.43.
Shipping is free once you spend $25.
(Expiry: Unknown)