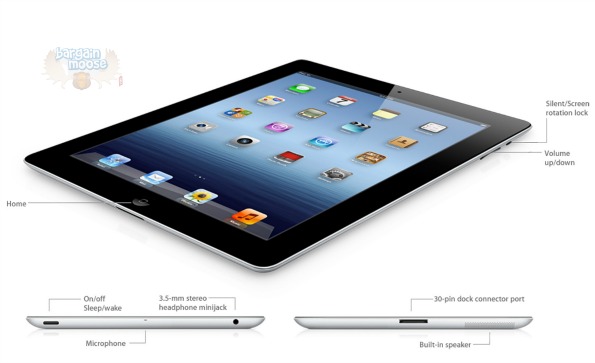 With the fall season comes fall markdowns! For a limited time, Chapters Indigo is having a sale on a great selection of their items, including some of their iPads and iPad Minis! One of these items, the Apple iPad 64GB With Retina Display, which normally sells for $699, can now be purchased for $579! You'll also qualify for free shipping if you end up purchasing any of these iPads or iPad Minis.
There's a decent selection of iPads and iPad Minis that you can choose from for this sale. Some of the ones that you can pick up today include the Apple iPad Mini 32GB with Wifi and Cellular for $499 (was $549), the Apple iPad 16GB with Wifi and Cellular for $529 (was $599), and the Apple iPad 128GB with Retina Display for $679 (was $799).
From my own personal experiences, I can say that having an iPad can be exceptionally convenient - especially if you love browsing the web as much as I do! When you're about to get some sleep after a long day of work, it's always nice to have my iPad Mini on my nightstand - rather than checking my emails and reading websites on my cell phone, I can enjoy the benefits of the bigger screen of this tablet. It's also nice to watch YouTube videos on it during my workouts, too!
An iPad can also be handy for you if you're constantly working from home. I know it's helped me plenty of times, and you can download a ton of free apps for it that can best accommodate your needs.
At first, I didn't think I'd really use my iPad very much, but when I ended up getting one (an exceptionally generous gift), I've been using it pretty much every day! I highly recommend that you check out this sale, since Apple products don't usually go on sale as often as other tablets on the market.
If you were to purchase the Apple iPad 64GB With Retina Display on Amazon, it would cost you $689. I've included a snippet of a review from a satisfied B&H Video customer below:
The main reason we bought an iPad was for portability when we travel. The second reason was to try some educational apps for our son. The larger screen makes it easier to use and read than my smart phone, but it's more portable than a notebook. The battery life is adequate, and overall, it performs faster than I imagined it would.
Check out this sale while these iPads are still in stock! Happy hunting, Bargainmoosers!
(Expiry: Unknown)