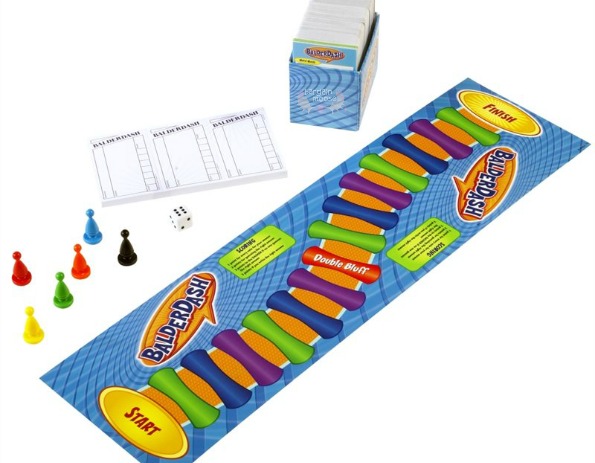 I'm so excited about this game being on sale at Chapters Indigo! Being a "wordy" person, Balderdash was my favourite game to play as a kid. I have very fond memories of playing it with my grandparents and am excited to play it with my own kids. This is the newer version that looks a little more kid-friendly and it is regularly $49.95 and on sale for $24.95.
The object of this game is to make up a definition of an obscure word and hope that others choose your definition, as well you have to choose the correct definition. What makes this game so hilarious is that sometimes the real definition is so completely out there, you really have no idea what is the right one. Then again, the answer could be completely simple, but you don't choose it because it could be a trap. That's the fun of this game!
When I used to play it with my grandparents, my grandfather always won because he was incredibly intelligent and actually read the dictionary for fun, so he sometimes even knew the right definitions. At least I know where I get my love of words from!
There are three reviews on Chapters Indigo's site and all are five-star. If what I said doesn't sway you to want to get this game for family game night, maybe theirs will:
This is the best board game ever. I did enjoy the older version with just words, but the different categories in this version make it so much better. My family and I stayed up until 12am just playing this game and laughing. It is awesome.
Unfortunately, the total for this is just five cents short for free shipping, so I had to search for something else to add to my cart to get the free shipping. That was easy as I just looked at the sale books, where there are even some under $5.
Amazon sells this game for $30 plus $14 shipping. I couldn't find this version anywhere else.
(Expiry: Unknown)