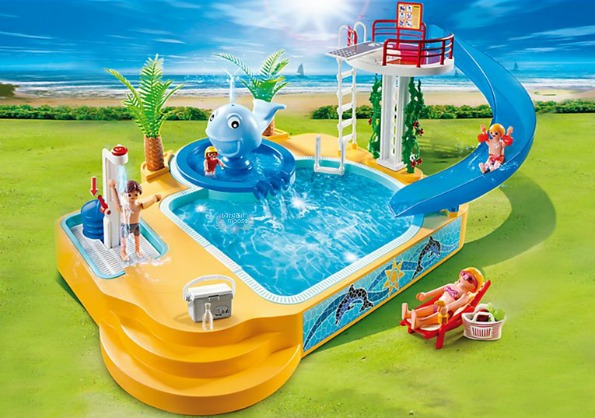 For three days only, Chapters Indigo has 25% off all Playmobil. This is a great deal because you don't often see an all-Playmobil sale on for more than 20% off!
I love Playmobil, my kids love Playmobil and my hubby loves Playmobil. Having recently moved into a home with a finished basement, it is now a Playmobil paradise. We have quite a few sets and what my kids and husband ended up doing is put a bunch of them together making what they call "the mansion". The mansion consists of a school at the bottom, bedrooms on top, even a jail, a fire pole and an ice cream shoppe. I love the creativity that Playmobil allows my kids (and hubby). I would say it is on par with LEGO (although I prefer Playmobil) in terms of you can create the model that comes with the set, or you can branch out and do something different. I also much prefer stepping on Playmobil as LEGO feels like a hot dagger through my toes.
The vehicles for Playmobil are also a huge hit with my kids and they stay together much better than LEGO vehicles too. My middle son's birthday is coming up in a week and every year he gets a new Playmobil set. I'm definitely going to get him one from Chapters Indigo, as the deals are hot! The new and hot section is of course the place to start.
I know my son would completely love this camp site set, and this is the perfect thing to bring along to our new trailer! With a regular price of $69.95, you'll get it for only $52.46. I think I have a winner!! The biker at camp site would go well as an addition and I find it hilarious! My husband is taking the kids camping today with his friend who rides a motorcycle so I know exactly what they'll do with this guy! This was $19.95 and now $14.96. I really can't wait to get the kids this set!
Shipping is free from Chapters Indigo with a $25 or more purchase.
(Expiry: 23rd July 2014)