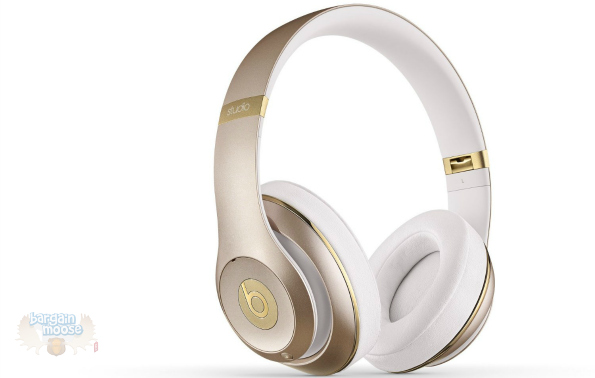 Do you worship the beats by Dr. Dre? Have you long wanted to get your paws on his Studio headphones but found the price too steep? Then pick up a pair with the Visa Checkout 20% off discount. Originally $329.95, the Beats Studio 2.0 headphones come down to $263.96 after Visa Checkout.
You will not find the Studio 2.0 headphones cheaper anywhere else. Right now, sale prices do not even drop the headset down this low. I price compared with many other retailers: here is the going prices for this headset.
$277 - $280 @ Amazon Canada
$329.94 @ Walmart Canada
$329.99 @ Best Buy Canada
$329.99 + $7.80 shipping @ Newegg Canada
$329.95 @ Staples Canada
Essentially, these headphones are full price anywhere else online except for Amazon. Amazon Canada confused me as they do not put '2.0' in the item's headline, rather you can find it in the product description. Even compared to Amazon Canada, you are still scoring these for quite a bit cheaper at Chapters Indigo. In addition, Amazon Canada only has three colours: white, black, or red with red being the cheapest. Chapters has nine different colour options.
My favourite colour is certainly the champagne set. They look incredibly elegant and are hard to find online. Most the retailers I price compared against do not sell this colour. Rather, they start with black and white and then add on red sometimes. I am not the only fan of champagne. One reviewer said:
I've had these for about a month and have been very happy with my purchase. I was originally going to get the solos, but I found them uncomfortable and knew I needed over ear. I actually wear these at the gym, which I realize sounds a bit crazy. The reality is that large head phones are on trend at the gym and I've never felt silly wearing them. They sound quite good. I know that you could get higher quality, but with an item like this it is more of a fashion statement. I love the look of the champagne. They have been very comfortable to wear.
Of course, you want details. The new Beats Studio (2.0) is lighter, stronger, and more comfortable. The headphones come with adaptive noise cancelling for keeping the world out and your music inside.  They have a 20-hour rechargeable battery. Remote talk means you never have to take off your headset to answer a phone call.
That 20-hour batter sounds amazing, so I checked out a few other reviews. Most people say they are actually getting around 20 hours from the battery, and that charging is faster than they expected. People also have been really impressed with the comfort level of the Studio 2.0.
Now, if your budget cannot stretch to Studio level, then pick up a pair of the new Beats by Dre Solo 2 headphones. Originally $219.95, they come down to just $175.96 after Visa Checkout discount.
These headsets qualify for free shipping.
(Expiry: Unknown)