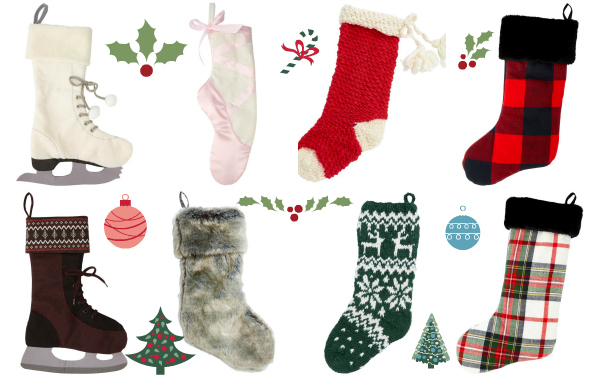 Today is the last day of free shipping at Chapters Indigo and we will be sad to see it go. There are so many amazing deals on right now including a sweet sale on Christmas stockings. These are stockings you hang from a mantel (or hook or door knob), not the kind you wear on your legs. Right now, Chapters Indigo has 50% off Christmas Stockings with the best stockings starting at just $10 each.
My favourite stockings are just $10! This Hockey Skate Stocking is super cool and really puts a Canadian twist on the classic stocking. I truly adore how they have converted the traditional stocking into a hockey skate. Originally $20, this Hockey Skate Stocking is now $10. For those who do not wear hockey skates, this White Figure Skate Stockingwould be perfect. Originally $20, this stocking skate is also down to $10. I used to wear white figure skates and my Dad would shave off the front picks so I didn't trip. Finally, my parents wizened up and just bought me hockey skates.
Did I ever mention my Mom tried to put me in ballet when I was three? That didn't go over so well (I sat in a corner), but this Ballet Slipper Stocking will go over well with your little ballerina. Originally $20, this stocking is also marked down to $10.
There are some gorgeous 'traditional' stockings on sale as well. This Buffalo Check Stocking with Faux Fur Trim is a personal favourite as it seems to embody Christmas. Originally $29.50, the stocking is on sale for $14.50. ThisStuart Plaid Stocking with Faux Fur Trim is similar but with a white background and green thrown into the festivities. Originally $29.50, it is also on sale for $14.50.
If your love has asked for fur this Christmas, get her a brand new Faux Fur Stocking - Grey Fox. It is probably not the jacket or stole she really wants, but it might be the best your budget can afford. Originally $29.50, the faux fur stocking is now $14.50.
For those who get into the classic Christmas spirit - you know that you want your stockings knitted. After all, all stockings were knitted back in those days. The Fair Isle Knit Stocking - Classic would but just what you are looking for. Originally $34.50, this stocking is now $17. There is also a green one and a red one you can select in the drop down menu.
All of these items would not usually qualify for free shipping, so now is the perfect time to pick up a new Christmas stocking before Christmas.
(Expiry: 10th December 2015)