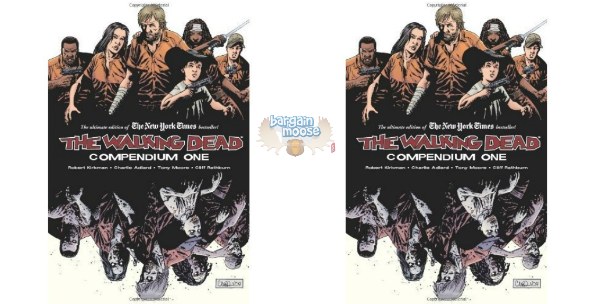 For all those Walking Dead fans get The Walking Dead Compendium Volume 1 which is a collection of the comics #1-48 all in one large volume. This book is 1088 pages long! Currently it is on sale at Chapters for $39.46 but add on the $5 off coupon code OLOCT11 and you will get it for just $34.46!
Of course you will get free shipping on this order, as it is over $25. Here is a totally awesome review about the book from Chapters:
To echo a previous reviewer, this series is addictive. It's simultaneously horrific, heart-wrenching and even hilarious - a true "roller coaster ride." As a reader, you're witness to these characters becoming completely undone; you see their unbridled reactions to a zombie apocalypse, with everything in front of them and behind them completely unknown. It's also a look at how people try to survive - and live together - when even the basic daily comforts are taken away, while being completely disconnected from anyone or anything else. It's a great mix of characters, too - seeing how they interact both with each other and as a unit against their enemies is really interesting and unpredictable. The whole story is unpredictable. I probably picked my jaw up from the floor several times as I made my way through the compendium. And as someone who was previously not a regular reader of graphic novels, I'm hooked.