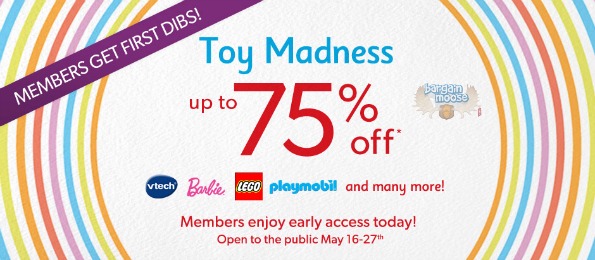 If you are Plum Member at Chapters, you are in luck. They are having an early sale for all Plum Members, with up to 75% off toys. This sale will open to non-members soon, but members get first dibs.
You can easily shop by age for this sale.
For one-year olds, get 65% off this Walking Elephant by Plan toys and pay only $69.99, regularly $199.99.
For three-year olds, check out this Hot Wheels Light Speeders Lightbrush Lab, now 50% off so you'll pay only $15.98, regularly $31.95.
Five-year olds will love getting 75% off this Fruit Ninja Slice of Life game, now only $7.49, regularly $29.95.
And for the seven-year olds, this Scribbles Doodlesworld of Fun will keep kids busy on long road trips for hours. Now only $4.75, regularly $12.99.
Shipping is free on orders over $25.
(Expiry: 27th May 2013)