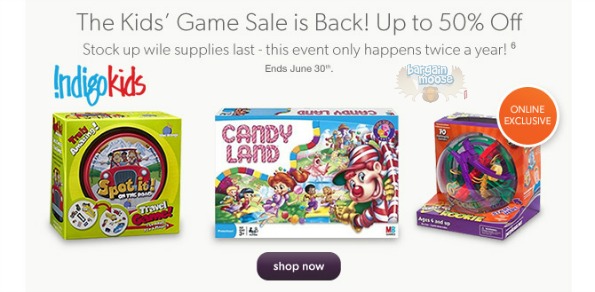 The semi-annual Kids' games sale is on at Chapters right now, with up to 50% off card games, travel games, board games, and more.
You can choose from several different categories of games:
Most of my gaming knowledge comes from the classic game section. When I was young, I used to play Game of Life a lot. Recently, Hasbro has updated the Game of Life and it is on sale for 20% off. Originally $29.95, it is on sale for $23.96. We also use to play Chutes and Ladders which I am positive use to be called Snakes and Ladders... and the 'chutes' were really the body of a snake... what gives? I had a love/hate relationship with that game. It is on sale for $7.48, originally $14.95.
There are so many other games I use to play like Battleship, Operation, SORRY, and Trouble that we just don't have anymore. The only game we currently own in its physical 'non-iPad' form is the regular version of Apples to Apples. You can get the Apples to Apples Junior version on sale for $19.96, down from $24.95.
Get free shipping on orders of $25 or more.
(Expiry: 30th June 2013)