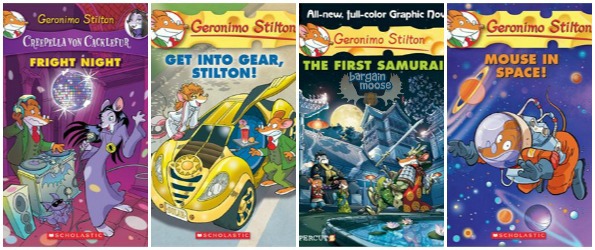 Chapters Canada has a sale on Geronimo Stilton books: buy two, get one free, online and in-stores.
If you don't know Geronimo Stilton, he is a talking journalist mouse who lives in New Mouse City. He would like to live a quiet life, but gets pulled into crazy adventures with his mice family and friends. These books are great for kids aged 6 - 12, as they are the appropriate reading level and keep their keen interest.
The books in the buy two, get one free sale are the older books or the new/yet to be released books, so you'll have lots of choice. I am always looking for a great book series for my seven-year-old who adores reading (just like his mother). While he'd rather we read to him, I am trying to encourage him to take on chapter books on his own, and to do that, I need something captivating. This series has caught my eye. What's great about getting books on pre-order is that when he's just finishing the first book I ordered, the others will come.
I know he'd love Geronimo Stilton Cavemice #2: Watch Your Tail. We recently saw the movie The Croods and it has really peaked his interest of cavemen. To be released in May, get it for $7.59 as a member.
Thea Stilton is a member of Geronmimo's family and I think this series shows that girls like adventure books too. Check out Thea Stilton and the Mystery on the Orient Express for only $8.54 for members.
Creepella Von Cacklefur #2: Meet Me in Horrorwood is a little bit of scary fun and also part of the Geronimo series. If you buy the other two, you'll get this book free, regularly $7.59 for members.
Shipping is free on orders over $25.
(Expiry: 22nd April 2013)