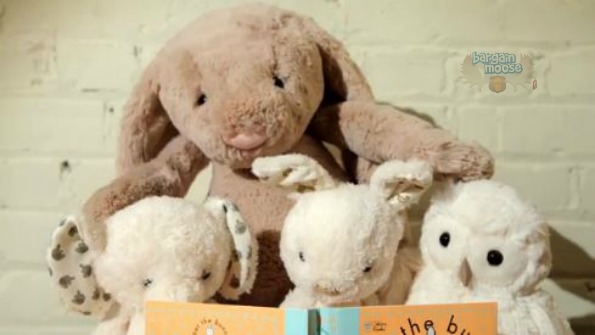 Bwah!!! I LOVE Baby plushies! Chapters has a B1G1 50% off promotion on any baby plush.
So it should be no surprise, because I am positive I have mentioned this before, but I collect plushies! Just one brand actually: Jellycat (which Chapters sells!). I use to have a good size collection of them, but then I went to visit my sister-in-law's nine children and brought them each a plushie from my collection and now my collection is quite reduced. Trust me though, they were a huge hit!
I still have theBashfull Giraffe which costs $19.99 at Chapters and I totally want the Bashful Elephant, because while I have one already, he is a different colour. I love elephants! He is $20 and I would get him for only $10 if I bought two plushies.
The only thing I find sad is that they have none of their huge or even large sized plushies included in this sale.
Free shipping on orders of $25 or more.
(Expiry: 24th June 2013)