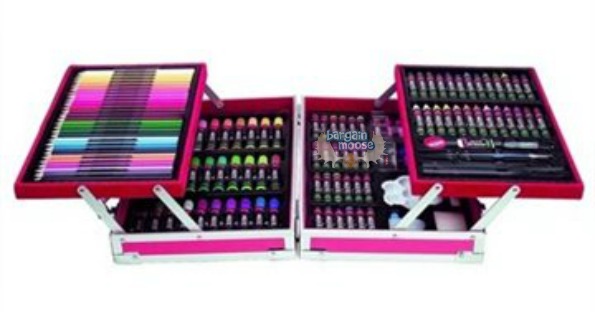 Sometimes you can find random toys for a good price if you really search at Chapters Canada. I found this Alex Monster Art Centre for only $47.98, which is 50% off and cheaper than I found it at any other Canadian retailer.
I was thinking the other day about how all three of my kids have very different interests. I have one who loves books and science, one who is athletic and loves being a daredevil and one who loves music, drama and art. I also realized this is going to be very expensive for me since they don't like the same things. So, when I find a deal this good on something my child is very interested in, I snap it up.
The Alex Monster Art Centre has a five-star rating at Chapters, based on customer experience.  It has also won numerous awards, including Best Toy of The Year.
It includes:
12 watercolour paints with palette,
28 coloured pencils,
24 oil pastels,
26 crayons,
30 fine-tip markers,
a water bottle,
two brushes,
a sponge,
two drawing pencils,
pencil sharpener,
eraser,
clear and white glue
It comes in a carrying case that folds out into an easel. With a sturdy metal handle, clasps and trays that open for access to the supplies, this is a durable and fully-stocked kit.
Shipping is normally free at Chapters on orders over $25, but I'm going to assume this is too heavy for free shipping. To Ontario, the cost was $7, but there is free ship to store.
(Expiry: Unknown)