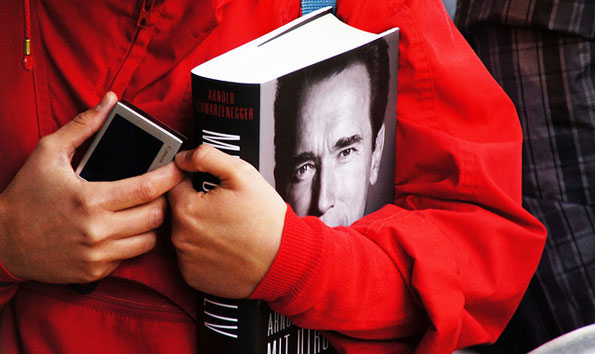 Do it. Do it now! Get Arnold Schwarzenegger's Total Recall: My Unbelievably True Life Story, which is down by 87% at Chapters Indigo and is now on sale for just $4.75 (reg. $36.99). It's $5 for non-Plum members but membership is absolutely free and awards rewards for every purchase.
Disclaimer: every time you read Arnold's last name in this post, it will have been copy/ pasted. Can you write his name without cheating or looking at the keyboard?
Total Recall is Schwarzenegger's first autobiography and I write "first" because it seems that nowadays it seems that celebrities releases autobiographies left and right, almost on a yearly basis. It covers his childhood up to his real life as a governator and with the last chapter being on Arnold's 10 rules, which briefly cover reps and a couple of life lessons like forgetting plan B and staying hungry.
This is an incredibly good deal for a $5 book that was released in October 2012 and which is comprised of 656 pages in a hardcover format. Amazonhas it on sale for as high as $29.59.
I actually bought this book for my hubby, who is incredibly into fitness and idolizes Schwarzenegger, and I must warn you that his book is incredibly hefty. It's definitely not the kind you could easily lug around on the subway , but it is, however, a good read, as evidenced by the numerous positive online reviews like this one:
I thoroughly enjoyed this! I like Arnold, the man, the actor, his humour, his opinions and a lot of his politics. I'm not into sports and thought the bodybuilding would be the least interesting for me but I found the whole thing fascinating. This is a huge book and instead of just sitting down and plowing through I decided to take it a chapter at a time and am so glad I did.
The only hitch is that on its own, this book won't qualify for free shipping. On the brighter side, Chapters Indigo's free shipping minimum threshold isn't as high as most stores and is only at $25. This means that you will need to add around $20 worth of merchandise to your basket to have your order shipped for free and I definitely recommend adding another book or two instead of paying the $5.99 shipping charge. Make sure to have a look at Chapters Indigo's Deals of the Week for plenty of other ways to save, like 50% off select celebrity lifestyle books such as Cameron Diaz's The Body Book on sale for $15.99 (reg. $31.99).
(Expiry: Unknown)
(Image Credit: Nikita Gavrilovs)