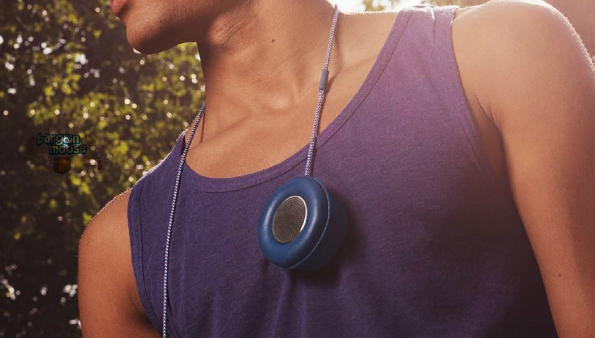 Hop on this deal quick my little Moosers because these are going to sell out fast! The Native Union Monocle Handset is on sale from $40 down to just $10 for this wicked portable little speaker. Receive free shipping on orders of $25 or more.
The headset is available in four colour options: slate, coral, marine blue, and mint. Currently, all four colours are still in stock at this price. The monocle is a speaker, handset, and speakerphone all in one for only $10.
You can use each speaker individually, or daisy-chain them up for an incredible listening experience. As they are only $10 each, I highly recommend picking up more than one to create a daisy chain.
This 'handset' has several different modes. You can use it to play music on the go. When daisy chained, the music experience only gets better. You can also use this headset to conference call. if you are conference calling off the same cell phone (say, you and a group of friends), they can each use a monocle.
Essentially, this is the ultimate affordable companion to your cell phone. Answer calls, listen to music, and get in on conference calls all from one little device. I would - of course - primarily use this as an external speaker for my cell phone. It is so compact that I could practically slip it in my pocket and take it anywhere with me.
I even like the 'monocle' design, which I think looks more like a yo-yo. The coral and the mint are the best colours in my opinion, but people seem to really like the royal blue as there are only three left in stock in that colour. There is sufficient stock for the others so far that they are not showing how many are left. I have seen these speakers marked down to $16 before, but $10 is the lowest price I have seen.
Now, if you are going to be buying electronics, I HIGHLY recommend the Native Union Switch Bluetooth Speaker on sale from $130 down to $32.50. This tower speaker that looks like a large LEGO block is also 75% off the original price. Colours white and Bordeaux are still in stock but the other two colours are already sold out. These speakers make an affordable option for listening to your music wirelessly.
(Expiry: unknown)