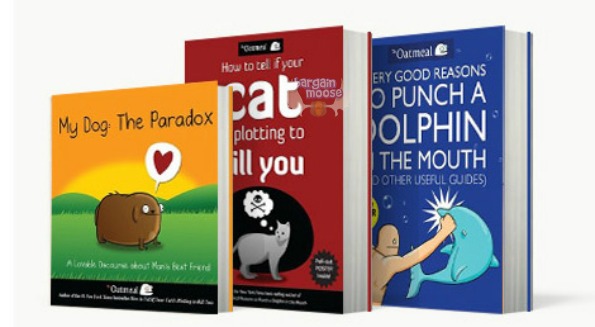 Get all three The Oatmeal titles for $25 from Chapters Canada, online only.
If you aren't familiar with The Oatmeal, then you are totally missing out. Matthew Inman draws and writes one of the funniest blogs I've ever read at theoatmeal.com. His books are just as funny. I love a blog turned book!
How To Tell If Your Cat is Plotting To Kill You is a best-selling book all about cat jokes. You'd think I was kidding, but I am not. Read the book and you'll be pleasantly surprised. Regularly $16.99.
5 Very Good Reasons to Punch a Dolphin in the Mouth sounds just as funny as it actually is. Your ass will literally fall off from laughing. Regularly $16.99.
My Dog: The Paradox is an ode to the author's dog in one of the funniest and most followed comics around. Regularly $10.99.
Get all three books for $25, which also means you'll qualify for free shipping. This makes a great birthday gift to someone you know who might need a good laugh (like yourself even).
(Expiry: 13th May 2013)