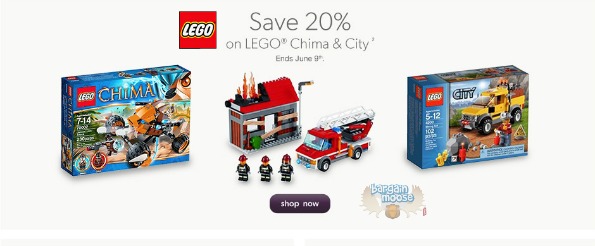 Get 20% off Lego Chima or Lego City right now at Chapters Canada.
I've blogged about Lego a few times before and I think it is because I know it is an amazing product, which has lasted for decades as a little boy and girl favourite toy. But, of all the Lego out there, I hear kids talk most about Star Wars Lego, Lego Chima and the classic Lego City.
One of my favourites (and yes I get a vote) is the Police Station. So realistic looking and a challenge to build, this is one set I know will get played with. Was $129.95, now $103.96.
Lego also makes a great gift for a birthday kid and my kids have four birthday parties already just this month, so I'm always on the lookout for sale items that kids will love. This Ambulance would make a great gift, as it isn't too much money, but its still super cool. Was $24.95, now $19.96.
As for Lego Chima, this Cragger's Command Ship is the ultimate swamp battle (cool!). Was $99.95, now $79.96.
Even better, if you order today or tomorrow, you'll get free shipping with no minimum! After that, get free shipping on orders over $25.
(Expiry: 9th June 2013)