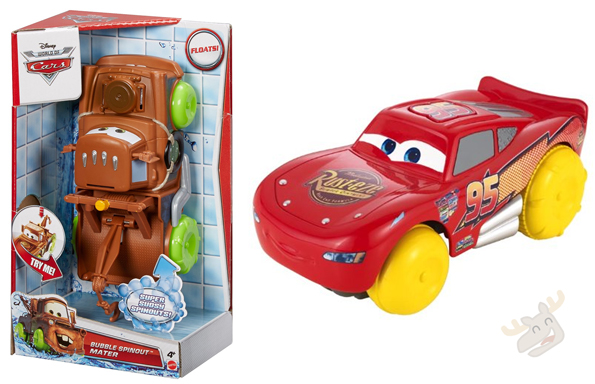 Is anyone on the hunt for Christmas gift ideas for a young kid? Well, I am… I have quite a few nephews and nieces to buy for! If you know someone who is a fan of the Disney Cars movies, then check out the deals on these two toys from Walmart. You can buy the "bubble spinout" toys of either Mater or Lightning McQueen at a discounted price – down from $29.97 to only $19!
These bath vehicle toys by Mattel are for kids aged 4 and upwards, and they look like great fun! You fill the toys up with liquid soap and water; you press the button to make the wheels spin and soap bubbles come out – kids just love this kind of thing. Wait, who am I kidding – I love this kind of thing myself!
I tried to find better images than the ones above, as it's hard to tell what size these toys are – there are no pictures with other objects to show the scale! But these dimensions might help you get a clear idea of the size of the Cars toys:
Product Dimensions: 14 x 9.9 x 25.4 cm ; 240 g
That sounds quite large, for a bath toy.
As for prices elsewhere, I can see these toys for sale around the $30 mark on Amazon, but not from many other stores at all. The price on Walmart is really good.
As for shipping, it's NOT free, sadly. Here are your options when it comes to collecting or shipping these Cars toys:
Pay extra for shipping to your home
Spend $50 or more for free shipping to your home
Collect for FREE at your local Canada post or Grab & Go locker
I think the last option is the best!! However, if you're buying both toys then you are spending $38 anyway… and you might just want to spend another $12 for free shipping to your home.
(Expires: unknown)