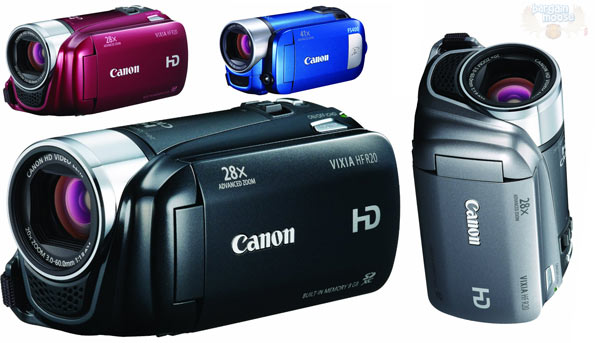 I was recently talking to a friend who was mentioning he wants to find a cheap HD camcorder to do some videos at the Calgary Expo so I went hunting for deals. I found a few nice deals on Amazon.ca.
Looks like they have the Canon Vixia camcorders on sale for up to 29% off. As usual with items sold by Amazon Canada, they have free shipping on anything over $25. Of course these being camcorders they are all over $25.
There are ten Cameras on sale ranging from low end SD to fairly high end full HD. Some of the Cameras aren't actually different models, they are just different colours. Technically, I guess there are only six cameras on sale since two of the models come in three colours. I'm not going to list every camera but here are a couple of highlights:
Canon FS400 Flash Memory Camcorder with 41x Advanced Zoom and SDXC Card Slot - $199 (Regular: $279.99) This model comes in red, blue and silver.
Canon VIXIA HF M41 Full HD Camcorder with HD CMOS Pro and 32GB Internal Flash Memory in black - $679 (Regular - $799.99)
I think the real deal in the bunch is the $329 (Regular $429.99) Canon VIXIA HF R20 Full HD Camcorder with 8GB Internal Flash Memory which comes in red, silver and black. You get full HD AND 8GB of internal storage at a good price.
So if you happen to be a reporter for a website and are wandering around Calgary Expo, Harbour Con-Fusion or Hal-Con, you can bring along a camcorder for a great price and you just might happen to see me or one of my cohorts wandering with the same gear.
Of course, the gear isn't nerd festival specific but what else would you do with high tech electronic equipment? Record the birth of your first child, make a video log of the first time you walk into the first house you buy with your significant other, remember the look on your parents face when you tell them you're getting married?! Pffft, is Patrick Stewart gonna be at any of those? I don't think so! He will be at Calgary Expo though so put on your Vulcan ears or Klingon head ridges and get over there!
(Expiry: 31st March 2012)