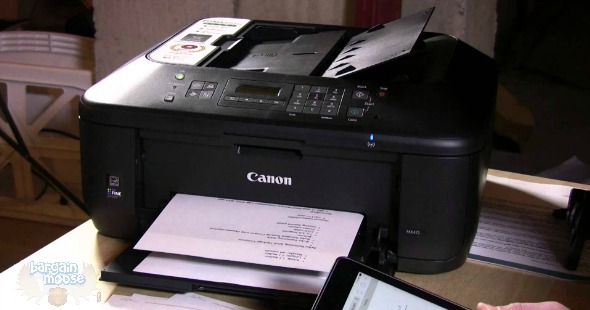 Everyone tells me to print my photos at home, that it would be cheaper. Have they seen the cost of printers and ink these days?! I usually wait for Costco or Blacks to offer photo prints for $0.08 or $0.10 each before printing all of my priceless memories. If you prefer to print at home, whether it be photos or documents, then check out the Canon Pixma MX472 Wireless All-In-One Inkjet Printer. Walmart Canada currently has this printer on sale for just $30, which is an excellent price compared to other Canadian retailers.
$30 really is an excellent price for a printer with great reviews like this. The Canon Pixma MX472 Wireless All-In-One Inkjet Printer regularly retails for around $59.99 at other stores in Canada, but Walmart.ca has it on sale for just $30. At this rate it would be cheaper to replace your printer than to buy more ink. Although that would not be great for the environment, which is why they introduced the Eco-Fee. In Ontario, you will be looking at an extra $8 as the "eco fee". Alberta and other provinces have a lower eco-fee of $4.80, and it appears Quebec does not have to pay that fee at all.
The lowest price recorded on this printer that I could find was $39.99, but it appears only Walmart.ca has such a low price on this Canon printer. The lowest price at any other retailer was $59.99, so you are even getting 50% off that price by shopping at Walmart Canada. Check out the prices on this printer at other Canadian retailers:
This is a decent printer with excellent reviews. You can print, scan, fax or photocopy. For this price, this is an ideal printer for students or people who print documents and occasional photos like myself. You can even print wirelessly from a compatible smartphone or tablet. I ordered one of these for my Grandma. Now she can print pictures of my son and her other great-grandchildren herself, so the rest of the family is not getting pestered for photos. Reviews say that this printer is easy to set-up and use, so hopefully that is the case. Ink is included, but don't forget to order paper too. Walmart.ca also offers free shipping on orders over $50. Otherwise you can opt to have this purchase sent to your local Canada Post for free.
(Expiry: Unknown)