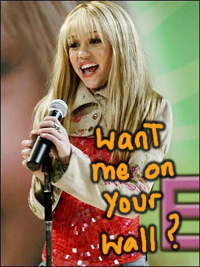 Maybe I'm behind the times, but I had to google to find out who exactly Miley Cyrus was. I was kind of sure it was a female person, even though "Miley" could be a bit ambiguous. Once I saw the name Hannah Montana, I realised who it was.
TeenVogue magazine are giving out free Miley Cyrus posters to everyone who joins their forums online.
Firstly, choose Canada in the drop-down country list, then fill in the rest of your details.
It's a show I have never in my life seen, but I think it's pretty popular! I thought this would be a good freebie if you have young kids who like the TV show. :) You could order the free poster for them.