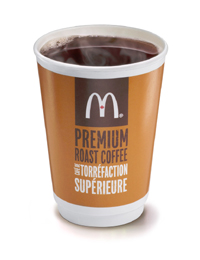 Good morning Canada! It's here again, McDonald's will be giving away free coffee for 2 weeks starting 1st March 2010, as tweeted earlier today.
For two weeks stop by McDonald's on your way to work, school, or any other time during the day for a free coffee. Sizes may be dependent on the location and traffic of the individual restaurant.
I hear their coffee is really nice, I guess it's time to try it out myself.
UPDATE: The next round of free McDonalds coffee will be on the 15th to 28th November 2010 and you can read more in this McDonalds post.