Ensure and Abbott Nutrition Canada have some nice free samples on the go here! There's a bit of a questionnaire to complete, with a few questions on where you heard about the product, medical conditions, purchase history, etc. It should only take you less than a minute though.
Click here to order your freebie from Ensure Canada.
Apparently you get 3 free bottles of the Ensure drink, and three post-dated $3 Ensure gift cheques too. These are the flavors you can choose from: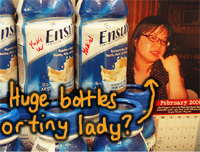 Vanilla

Chocolate

Strawberry

Orange Cream

Wild Berry

Butter Pecan
If you don't know, Ensure is a nutritional drink, chocked full of vitamins and minerals! If you want to read more about it, click here to see the info on AbbottNutrition.ca.
I've never had this stuff, have you?
Thanks to kyameyuki!
UPDATE - Expired!