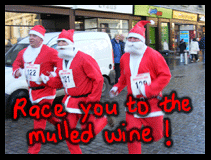 Do you know a young kid who still believes in the jolly fat man who brings Christmas gifts (and I don't mean uncle Henry)!!? If you have kids or relatives who are still of the believing age, this would be a great idea for them. You can create a personalized video from Santa Clause on the simpatico site. You just put in a few basic details like ages and names, and it outputs a lovely clip!
Now, when I did it, the site was very slow. I think they must be quite busy. But if you just persevere, you should be able to create your personalised video. If your child's name isn't in the list, you just have to tick the checkbox and they work around it by saying something like "young fellow" instead of the actual name.
So we did this Santa Claus video for my two nephews. One is 4 years old, and the other is 5. Their faces were a picture! They were just ecstatic and over the moon to see a personal message from Santa! They were also pretty astounded at Santa knowing their ages and what they wanted for Christmas!
Thanks for the pic historicalpaisley1!