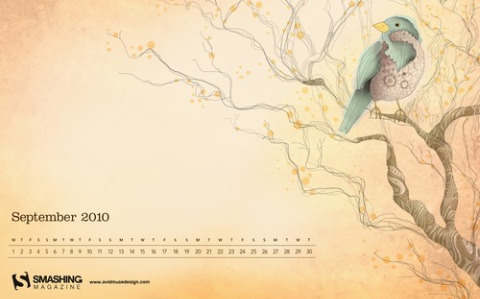 This is a freebie I find invaluable month after month of using it, and have decided to share it with you guys! There is this place called Smashing Magazine that has been releasing free Desktop Wallpaper Calendars from designers around the world for free to download on their website.
Every month they have many many options to choose from: for this September alone there are 75 free desktop wallpapers you can download! Each is available with or without the calendar imbeded in it. They are available in all different sizes to fit your screen size needs.
I find these things so useful! I am always booking appointments and scheduling things so having a calendar right on my desktop is awesome. Having one that looks sweet, even better!
The one pictured above is from a Canadian designer. The one pictured below (and currently on my desktop) is from a designer in the US. But they have ones from designers worldwide.