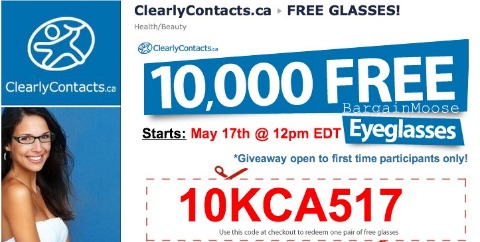 Yet another free glasses giveaway from Clearly Contacts Canada! Wow! I don't know how they can keep offering up free glasses. There will be 10,000 pairs of free glasses available to first time customers of Clearly Contacts on the 17th of May, 2011 at 12 pm EDT (noon).
Discount: Free Glasses
Coupon Code: 10KCA517
Expires: 17th, May 2011
Here's how to get your free glasses:
Go to Clearly Contacts website to pick out your favourite glasses.  It is recommended that you do this prior to the the giveaway so you are ready to go when the promo starts. On the 17th, May at 12pm EDT, place your order and enter the coupon code above during checkout.
If you aren't a first time customer, no worries! Existing customers who have never received a free pair of glasses can enter their name and address to get a personalized coupon for a free pair of glasses immediately! You will have to 'Like' them on Facebook to access this offer. Click on Free Glasses on the sidebar and then scroll down to find the area where you enter your name and email address.
So either way: if you have never had a free pair of glasses: you can get a pair! Mark your calendars.