It's coming round again… free cone day @ Ben And Jerrys Canada! The scheduled date is April the 21st, 2009. On that day, you can get yourself a free cone from your local Ben & Jerrys scoop store! I'm posting this in advance to give you plenty of notice and time to write the date in your diary, but I'll bump this post closer to the event.
Now, there appear to be only 3 cities in which this offer applies, so it's quite restricted. I'll blog about it anyway in case you live in one of these 3 areas. Here are the locations where the free ice-cream will be available: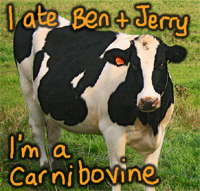 British Columbia
Mayfair Shopping Centre
3147 Douglas St., Unit 125
Victoria

Ontario
Vaughan Mills
1 Base Pro Mills Dr. #2
Toronto
Quebec
De Maisonneuve
1316 De Maisonneuve Street, Ouest
Montreal
McGill College
1200 Mcgill College
Montreal
Monkland
5582 Monkland Avenue, (Corner Marcil)
Montreal
What is your favorite Ben & Jerry's flavor? Mine is definitely the Cherry Garcia – I could eat a tub of it all at once! The gorgeous lumps of dark chocolate, the magnificent nibbles of cold cherries, the creamy ice cream goodness! The Cookie Dough ice-cream is also damn fine, but it doesn't grab me as much as the Cherry Garcia does!
I hope you get some free ice cream! Let us know if you do please. :)
Thanks ddk4runner~Busy~!