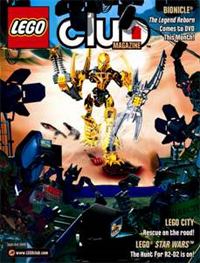 This is a nice little freebie for those of you with kids. You can get a free Lego magazine subscription when you sign up on their website!
When you click through to the Lego freebie page, click the Canada link on the right hand side. You can then fill in all your details to get your free magazine subscription. Here's what the small print says:
Magazines can only be mailed to addresses that are country or language-appropriate. Club membership is valid for 2 years and includes free copies of LEGO Magazine. Membership can be cancelled at any time. Please allow 4-6 weeks (US&Canada) for delivery of your first mailing.
Isn't Lego brilliant? Even at my age, I can still play with it for hours and hours and hours. I'm not very creative though. I usually just keep making the same 4-sided house over and over again, sometimes in varying colors. I do admire Lego sculptures though. How about this one… the Lego spice must flow!