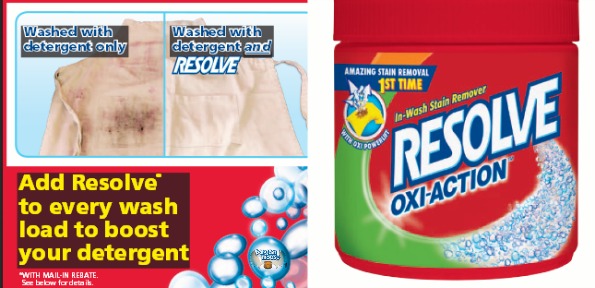 Resolve Canada is so convinced that you will fall in love with their stain remover, they want you to try it for free!
This is a great freebie that everyone can use. We all wear clothes, we all spill on clothes, and we all try desperately to get out those stubborn stains from our clothes!
Trying to get out stains can be annoying, and also very time consuming. You have to spray on the stain remover, let it sit, put it in the washing machine, and 9 times out of 10, you'll need to do this more than once. And if you live in an apartment like me, and have to use a coin-operated washing machine for $2 per load, the cost adds up quickly.
Well, Resolve Canada has resolved this problem! Their Oxi-Action In-Wash Stain Remover makes getting rid of stains as easy as 1, 2, 3! Resolve promises to treat even the toughest of stains (think ketchup, mustard, red wine) and get them out the FIRST time. You can use this product to pre-treat stains, and also add it with your detergent as an in-wash agent. For more instructions and tips on how to use Resolve Stain Remover, click here.
To be eligible for this mail-in rebate, you'll have to buy either the 756 g or 1 kg powder or the 650 mL liquid. Make sure the product you purchase is $7.99 or less, since that is the maximum amount for the rebate. Your purchase must be made between April 13th and May 13th, 2013 and you have until June 13th, 2013 to submit your form. There is also a limit of one rebate per individual, family, or household.
After you have mailed your rebate, please allow 6 to 8 weeks to receive your refund in the mail.
(Expiry: 13th May 2013)