Chai, espresso, cappucino, coffee, tea - oh my! I like to go through my day with a near-toxic blood caffeine level, so it's pretty safe to say that I"m a hardcore Starbucks junkie! Just seeing the color green now makes my heart beat faster! And being the parent of teenagers, I never have loose change or cash in my wallet (why does everyone need my last $5 just as I'm about to head out the door in the a.m.?!) ... so I always have a Starbucks card in my purse.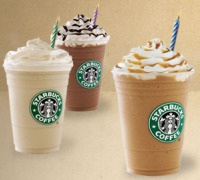 Starbucks is now offering an extra incentive to register your card with them - they're giving you a free beverage on your birthday!
Why bother to register your card?
Well, registering your card will help you to get the most out of it - special rewards and benefits like a complimentary beverage on your birthday. You'll get up to 2 hours of free Wi-Fi (the card provides the username and password needed to conect with Bell Wi-Fi). It It lets you check your balance.
You can even set up your card under the "Manage Card" feature to automatically reload when the balance falls below a certain amount -   a definite perk if your kids use your card too, it helps avoid that "what do you mean there's not enough left on it" moment at the till! Best of all, it protects your balance if your card is lost or stolen! If you report the card lost/stolen, they can transfer the balance as of that day to a new card that they'll mail out to you immediately!
One other perk of registering your card, it also makes you eligible for Starbucks Card Rewards which offer some sweet savings to further enhance your visit to Starbucks: free syrup and milk options for your beverage, free brewed coffee refills -hot or iced, a free tall (12 oz) beverage with your 1lb whole bean purchase, and up to 2 hrs free Wi-Fi per day.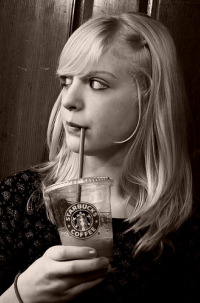 I registered my  card, and it only took me 4 minutes (and I'm a techno-doofus!). You'll need to enter the card number and the 8-digit Card Security Code, both which can both be found on the back of the card. You'll need to create an account with Starbucks, entering the usual name/password/date of birth/mailing address.
When you're entering your address, the Canadian provinces are listed below the USA states. The form does accept Canadian postal codes.
Happy Birthday to us!
Thanks to pink!