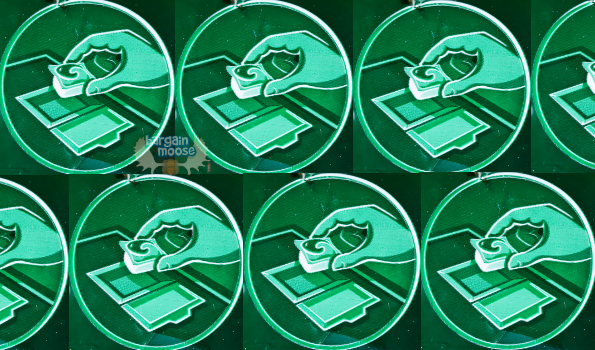 Take advantage of a sweet little freebie today, Bargainmoosers. P&G Brandsampler is giving away a free two-pack sample of Cascade Platinum Dishwasher Pacs to registered Brandsampler members. Registration is free!
You do need to be a registered Brandsampler member to receive this freebie. If you are already a member from other great P&G Brandsampler freebie times, simply log into your account once you click the link. If you have not grabbed a P&G Brandsampler freebie before, follow the link and complete a simple registration form for your freebie.
P&G states that there is only one freebie per address, and duplicate requests are deleted. For all of you who are in Quebec, I noticed something strange about this sample. I am already a registered member and they allowed me to request a sample with my account with no issues. When I tried to log in as a new user and create a free account, Quebec is excluded from the list of provinces. I guess I will have to wait and see if the sample makes it to my house here in Quebec. The rest of you Bargainmoosers should have no trouble grabbing this sample.
Dishwashing soap has come so much farther than it was ten years ago. I remember clearing powdered crust from the inside of the dishwasher cup inside the machine. I would also pre-rinse all of my dishes to make sure they got clean. The dishwasher at that point was essentially a treatment of hot water and steam to sterilize, and you hoped the soap mixed in there somewhere.
Luckily for us, times have changed and the Cascade Platinum dishwasher samples are here to help you cut down on your pre-rinsing time. I hope this product will get that last bit of pizza cheese that always seems to stick to the plate. Cascade says these pods can scrub away food that has been stuck on the plate for up to 24 hours. They claim to have a triple action formula, which means they include three kinds of soap. Included in these packs is Dawn detergent, which I find is an extremely effective soap. This product is available in both a fresh scent and a lemon scent though the freebie does not specify which scent we will receive. Make sure you store these dishwasher pods somewhere dry, and away from small children.
Bargainmoosers, let me know if you were able to grab this freebie!
Image Credit: Mark Morgan
(Expiry: Unknown)